Regular price
Sale price
$59.99 USD
Unit price
per
Sale
Sold out
This Beautiful "Protection " Necklace in Black Obsidian, Tiger's Eye and Hematite is designed with natural stones of 10 mm and 6 mm and is 14 1/2 inches in length. Perfectly adapting to any unique style. 
 
Hematite is a stone that grounds and protects. It strengthens our connection with the earth, giving us the feeling of being safe and secure.  It gives courage, strength, endurance and vitality. It also stimulates concentration and focus, enhancing memory and new original thought. It also removes negativity and prevents you from absorbing the negative energy from the others. Hematite uses the magnetic qualities of our yin-yang energies to balance the meridians within the body which provides a stable equilibrium. It focuses energy and emotions for balance between the body, mind and spirit.
 
Tiger's Eye raises awareness and helps keep negative waves at bay by keeping only the positive waves to protect you. It is a stone that enhances good luck, brings prosperity, and helps one see clearly without illusion. Stone of Willpower and Protection. Tiger's eye brings a special boost to the solar plexus chakra and to one's personal power.
Black Obsidian
Made from lava that was forced to cool extremely rapidly, obsidian is a type of naturally occurring volcanic glass. The largest sediments of obsidian are found in Mexico and India, although it can be found all over the world. As one of the more protective stones that can be found, the primary obsidian property is to guard against negative energy. Not only can it repel negativity from others, but obsidian also does a tremendous job at protecting against negative environmental energies and outside negative influence. 

This beautiful  "Protection" Necklace will suit men as well as women and will bring you the benefits generated by these stones full of beauty and healing power. 
Share
View full details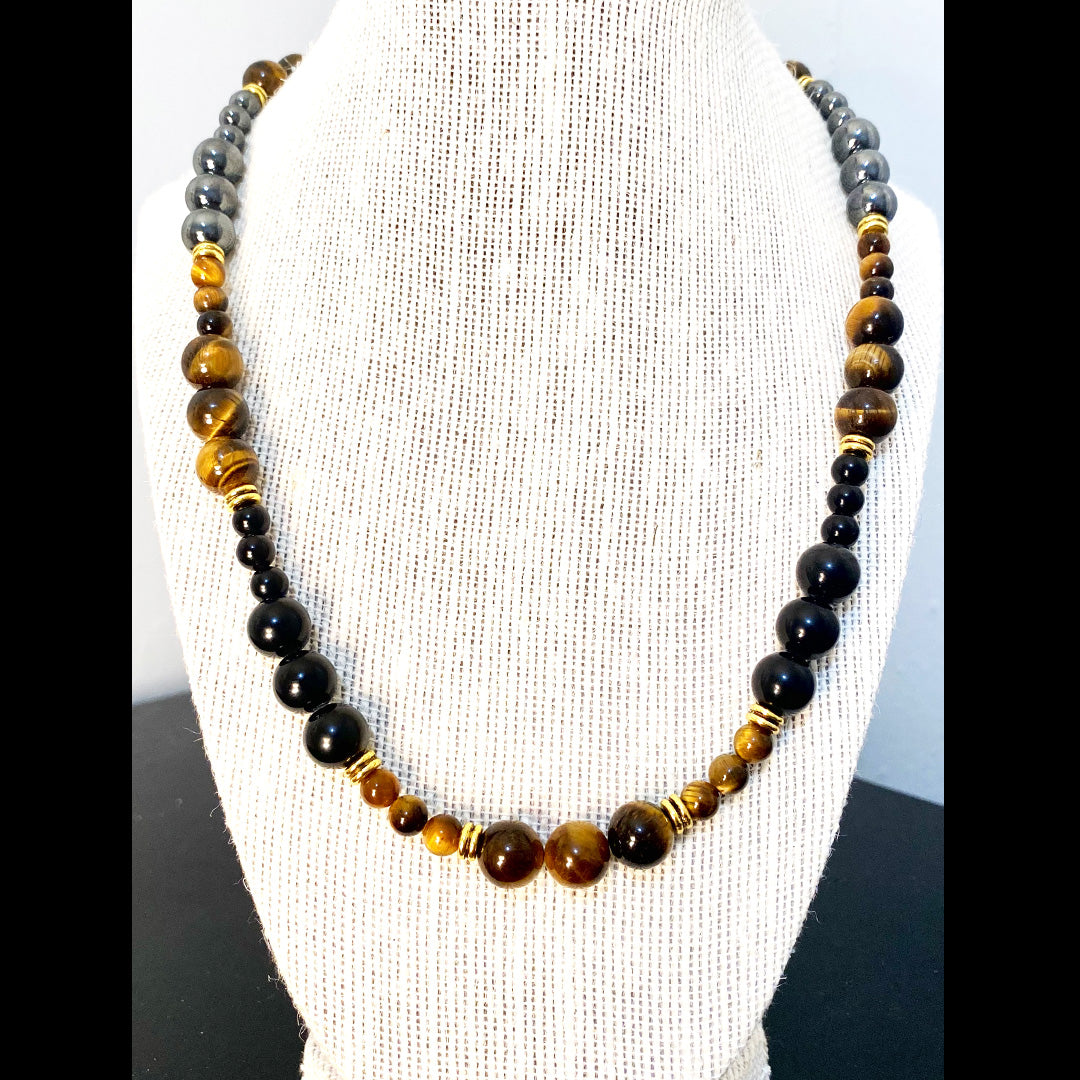 Free Shipping

We do not currently offer free shipping for any order under $150, as well, at this time, we do not offer to ship to any locations outside of the United States.

Shipping Policy

Returns/Exchanges

Certain types of items cannot be returned, like perishable goods, custom products, and personal care goods. Soap is Personal Care Good, we do not accept returns.

Refund Policy